---
A Drought with Increased Flooding?
June 12, 2022
---
Tidal Flooding on Washington Street, Charleston

So far, the Charleston region has seen been 9.5 and 13 inches of rain this year, which is about 5" below average. There were some isolated areas of urban stormwater flooding during a moderately heavy rain last Thursday, but overall, there haven't been significant occurences of stormwater flooding so far in 2022.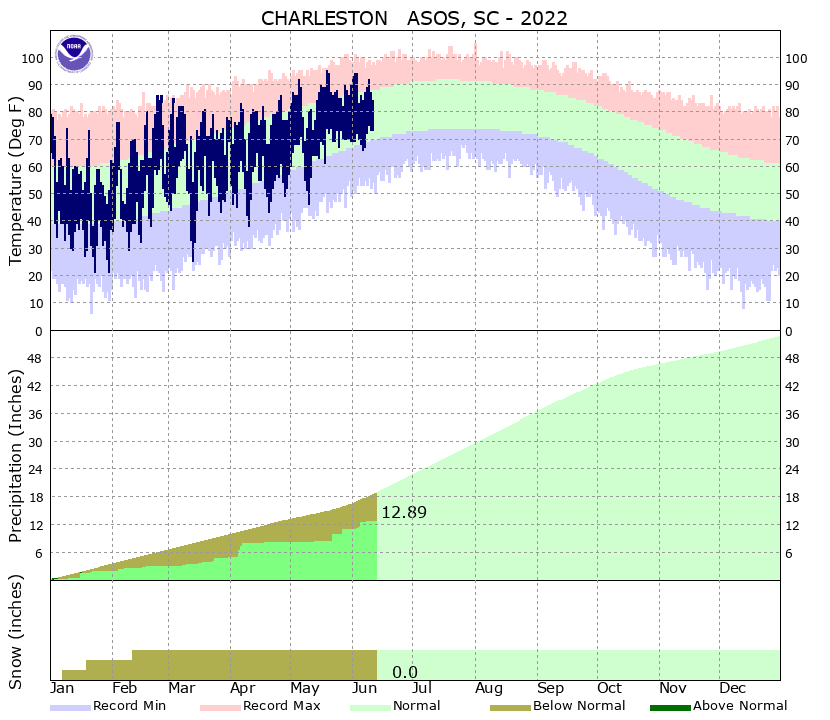 2022 NWS Climate Plots for the Charleston Area

It's a different story when it comes to tidal flooding. In fact, from January to May of this year, we saw 22 tidal floods (tides exceeding 7' on the mean lower low water datum) in Charleston Harbor, which sets the record for the most observed over the first five months of a year. 2019, which is the most active year for tidal flooding on record, saw 19 tidal floods over the same period. We also saw eight tidal floods in January and nine tidal floods in May, which are records for each of those months. It's the first time that we've set two monthly records during the first half of a year over the period of record (1921 - 2022).


Tidal Floods, January through May (source: NWS Coastal Flood Event Database)

It's a similar story with moderate tidal flooding (tides exceeding 7.5' MLLW). Six of the 22 tidal floods reached this threshold, which is also a record for the first five months of a year. Due to astronomical influences associated with the upcoming full moon and perigee, we are currenlty in a coastal flood advisory, so the rate of tidal flooding does not appear to be slowing.